An older one, this user custom Andrew Demko in CPM-M4 high speed steel from a Dutch forum member.
Before sharpening: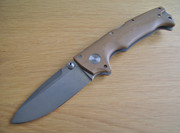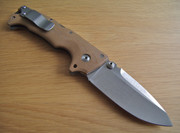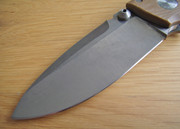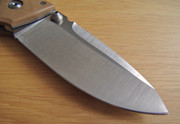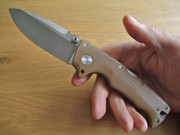 After sharpening.
Reprofiled from +/- 30 degrees inclusive to 25 degrees inclusive on a standard Paper Wheel with 220 grit SiC, then refined with a second Paper Wheel coated with 15 micron diamond compound, and finally deburred with a third Paper Wheel coated with 1 micron diamond compound (experimental)
The new edge survives a few forceful test cuts into my laminated test block without any visible damage (seen through a loupe), after which it effortlessly treetops the hairs on the back of my hand and slices single-ply toilet paper.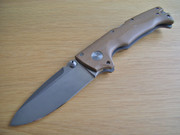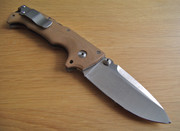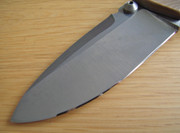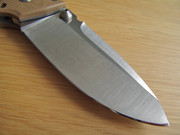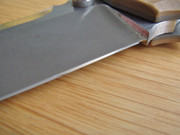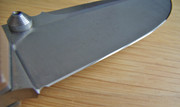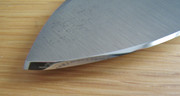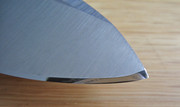 Specs:
Length open: 8.7 inch (22,2 cm)
Length closed: 5.3 inch (13,4 cm)
Blade length: 3.5 inch (8,9 cm)
Blade thickness: 4,57 mm
Steel: CPM-M4
Lock type: Tri-Ad lock
Handle material: Tan G-10 on titanium liners
Weight: 214 grams