Since 2009 i've been sharpening knives on Paper Wheels, and i hope i'm not i'm the only one on this forum.
From time to time i will post my results here and i hope that others will do the same,
Here's one i did a few days ago, a Spyderco Paramilitary 2 in Elmax steel.
The factory edge had some light brown discoloration near the tip on one side, traces of some unknown black stuff that couldn't even be removed with acetone (visible in pic 1 & 3), and it could also barely cut copypaper.
This is how it looked before sharpening:
(pics can be clicked 2 x)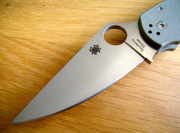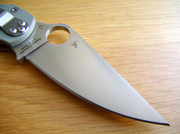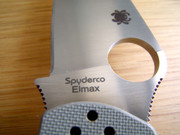 First i removed the apex of the old edge by cutting a few times in a silicon carbide stone, then resharpened it with a Paper Wheel coated with 15 micron diamond compound, followed by removing the tiny burr with a second Paper Wheel coated with 1 micron diamond compound.
This time i also polished the bevels a bit more with the same Wheel, just to see how the Elmax would do.
According to my Tormek angle gauge the new edge measures 30 degrees inclusive, can slice single ply toilet paper and easily whittle the hairs on the back of my hand from heel to tip.